Lowell 2-sport star Josh Rau ready to make leap at Saginaw Valley State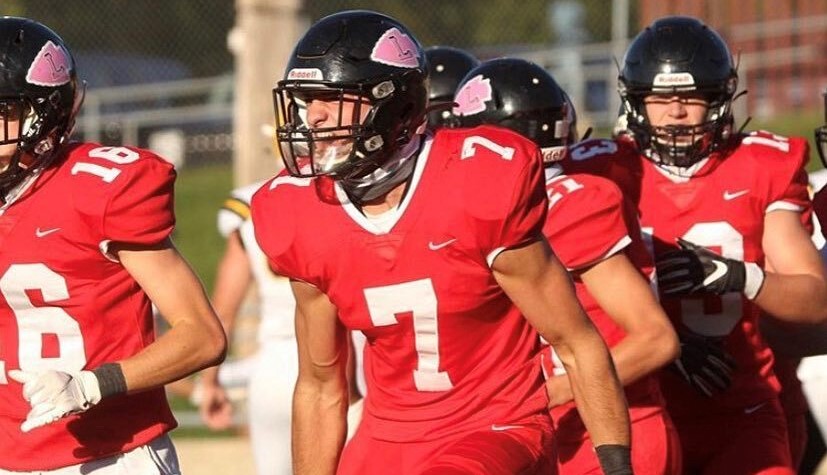 LOWELL, Mich. (BVM) – Lowell High School senior Josh Rau is ready to make the leap. The two-sport standout is set to suit up at linebacker for Saginaw Valley State University this fall.
The 6-foot-3, 215-pounder primarily played on the defensive line at Lowell. And he doubled as a fullback slash tight end for them.
Rau excelled on the field as a senior. The Red Arrows captain recorded 30 tackles, 12 of them for loss. Plus he added nine sacks and tallied four rushing TDs on offense.
As a result, he earned a coveted spot on the Detroit Free Press first-team all-state team on the defensive line.
Beyond that, Rau excels on the track as well. He received numerous accolades during his junior year. They include an all-state selection, incredibly in a second sport. What's more, he posted a new school mark in the 110-meter hurdles.
Josh has only improved with time. He captured a couple of individual crowns at the OK conference championship meet in 2021. Now he is clearly hitting his stride.
The fourth-year speedster just smashed a 38-year-old Red Arrow record in early May. He clocked 39.96 seconds in the 300-meter hurdles vs. Greenville. That achievement drew headlines across the state.
His track skills translate smoothly over to football. In addition, his speed should serve him nicely in the switch to linebacker. Saginaw Valley hopes to see his quickness and agility on full display there.
He is adding muscle mass in the process. Josh can bench press over 300 pounds. Add his natural athletic abilities and a college form is taking shape. With some added strength training, he should be a big problem for the opposition.
The twin letterman scored a half-dozen scholarship offers from various schools around the Midwest. He got recruited by Michigan State, Western Michigan, Division II champ Ferris State and Ball State, to name a few.
No doubt, sports play a key role in the Rau family. His older sister Kyleigh plays basketball at the collegiate level. She also competed in track and as a member of Lowell's equestrian team.
Along with his talent, Josh has proven to be a team leader. By all accounts, he's a great teammate to have.
"Josh leaves a legacy of a friendly, fun-loving young man who is an intense competitor," Lowell High School athletic director Deanne Crowley said. "He works extremely hard in all his sports giving everything he has to compete, but is full of laughter and fun supporting his classmates in their sports when not involved in his own athletic events."
Crowley believes younger student-athletes can learn from Josh.
"Younger student-athletes can learn from Josh that hard work and dedication bring results," she said. "Josh shows what we want all Red Arrow student-athletes to exemplify: Work hard. Have fun. Be a good teammate."
Like many college freshmen, Josh is making a major move this summer. He leaves a small town of fewer than 5,000 people for a city with 10 times as many. No matter, he is primed for success.