People are waiting for your news!
Submit your post to be featured on the University of Iowa page
Submit a story
Hawkeye Football: Iowa Transfer Portal Entry Tracker
Easy come, easy go in the world of college football. The college football landscape has gone through slow evolutions over time, but in the last few years it has shifted dramatically. We are now in the era of the transfer portal and NIL and things are vastly different than they were just a few short seasons ago. With one time…
Iowa Football: What Changes for the Hawkeyes This Offseason?
Clearly something needs to change this offseason. Will it? Welcome to SB Nation Reacts, a survey of fans across the NCAA. Throughout the year we ask questions of the most plugged-in Iowa Hawkeyes fans and fans across the country. Sign up here to participate. Things came crashing down for the Iowa Hawkeyes in their season finale last Friday. Despite the…
Fans erupt on social media in reaction to Kris Murray's 30-20 game for the Iowa Hawkeyes
Kris Murray is officially a star in college basketball. It felt like that was going to be the case, but after his latest eruption versus Georgia Tech in the Big Ten/ACC Challenge, it feels like that's now a fairly obvious takeaway. Murray went bonkers again, tallying a career-high 31 points and wrangling 20 rebounds to go with four assists and…
Kris Murray leads Iowa Rout of Georgia Tech
Hawkeye Junior Scores 31, Grabs 20 Rebounds Tuesday Night IOWA CITY, Iowa – Kris Murray's final rebound was the final one of Iowa's 81-65 win over Georgia Tech in Tuesday's ACC/Big Ten Challenge game. The uncontested rebound on Lance Terry's corner 3-point try completed one of the more historic individual nights in program history. Murray had 31 points and 20…
Campbell Named B1G Defensive Player of the Year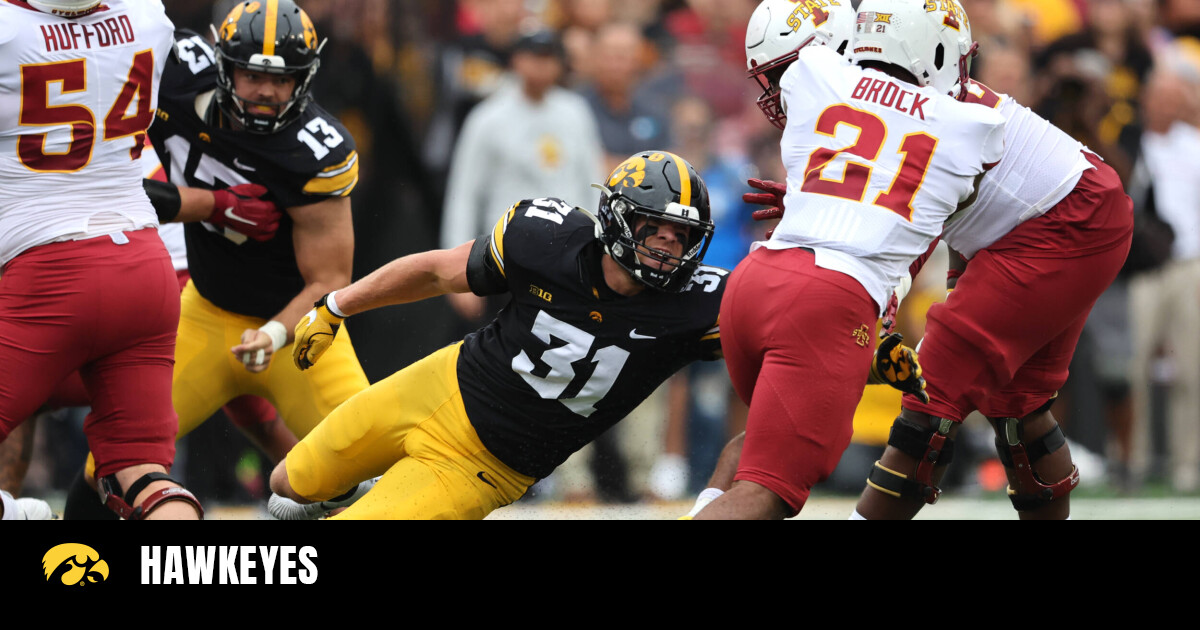 IOWA CITY, Iowa — University of Iowa senior linebacker Jack Campbell has been named the Nagurski-Woodson Big Ten Defensive Player of the Year and the Butkus-Fitzgerald Big Ten Linebacker of the Year to highlight Iowa's defensive honors on the all-conference teams. The Big Ten announced the defensive awards Tuesday and will announce offensive awards Wednesday. Campbell was named first-team All-Big…