People are waiting for your news!
Submit your post to be featured on the University of Oklahoma page
Submit a story
Oklahoma football: Baker Mayfield vs. Kyler Murray NFL Round III
Historically, Oklahoma football has not been a prime producer of NFL quarterbacks. But that changed with the dawn of the new milllenium. Former Sooner quarterbacks have made it to the next level — only to change positions in the professional game or in backup roles — but never with the notoriety of our former OU […] Oklahoma football: Baker Mayfield…
In TCU Fallout, Could Oklahoma's Jovantae Barnes Push For More Carries?
Saturday at Fort Worth, the Sooners' freshman running back looked like the most talented player in crimson and cream. Saturday's demoralizing loss to TCU exposed Oklahoma in many areas. The Sooners struggled to find anything that worked and, for the most part, any positive plays on either side of the ball. As a team, Oklahoma was nearly lapped by the…
Oklahoma football: Numbers in plentiful supply as TCU embarrasses OU
The Oklahoma football program has a lot of soul searching to do, not to mention medical triage, after suffering its worst regular-season loss since 2016. Oklahoma gave up 59 points to Texas Tech in a classic shootout between Baker Mayfield and Patrick Mahomes, eventually won by the Sooners, 66-59. The Sooners were torched for 668 […] Oklahoma football: Numbers in…
What to Expect if Oklahoma QB Davis Beville Makes First Career Start Versus Texas
Oklahoma quarterback Dillon Gabriel entered concussion protocol against TCU, putting his status for next week up in the air. FORT WORTH, TX — Oklahoma's nightmare scenario struck on Saturday. Down 24 points to the TCU Horned Frogs at Amon G. Carter Stadium, OU quarterback Dillon Gabriel fell victim to a late hit from linebacker Jamoi Hodge. Penalty flags littered the…
AllSooners Podcast, Ep. 147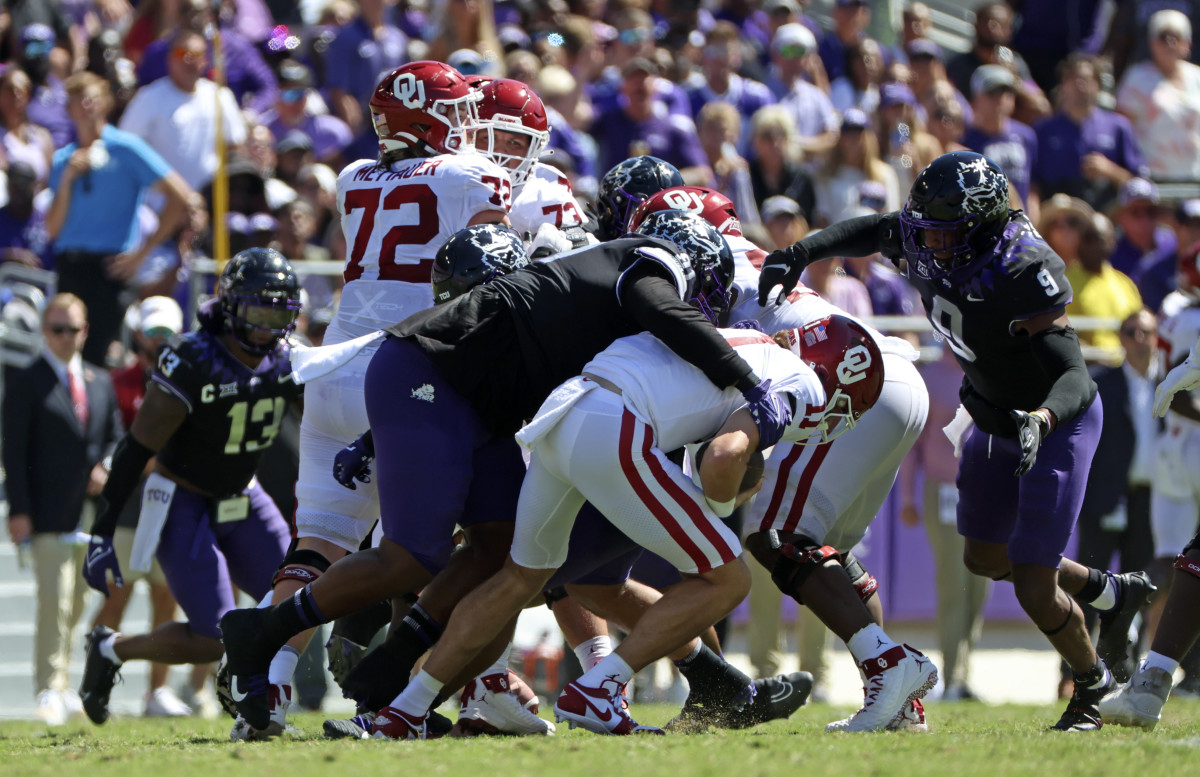 On Oklahoma's 55-24 loss to the TCU Horned Frogs on Saturday afternoon in Fort Worth, TX. AllSooners publisher John Hoover, deputy editor Ryan Chapman and multimedia director Josh Callaway break down Oklahoma's 55-24 loss to the TCU Horned Frogs. To listen to the podcast, click the PLAY button on the embedded player below … Or LISTEN on Podbean … Or…