No results matching criteria.
People are waiting for your news!
Submit your story to be featured on this page
Submit a story
How to Watch Maximilian Marterer vs. Aljaz Bedene at 2022 Wimbledon: Live Stream, TV Channel
No. 176-ranked Maximilian Marterer will take on No. 202 Aljaz Bedene in Wimbledon Round of 128 on Monday, June 27.Marterer secured a three-set victory over Nicolas Moreno de Alboran (7-6, 7-6, 6-3)…
Women's Tennis Earns Team Academic Award
LANCASTER, Pa. – The Atlantic East Conference announced the winning squads for the Winter and Spring Team Academic Awards on Friday morning, as six institutions garnered awards. The Neumann University women's tennis team earned the highest team GPA in the conference.
Robert McQueen's girls tennis coach Gregg Donnelly serving life lessons
Gregg Donnelly has been coaching Robert McQueen's Girls Tennis Team since 2015. Prior to that, he was the Girls JV Basketball coach from 2012-2017, and then the Girls Lacrosse coach from 2013-2017.
Sixty-Three Jets recognized in MIAA Newcomer Academic Awards
KANSAS CITY, Mo. - The MIAA announced its final Academic Awards of 2021-22 on Friday as 943 Newcomers were recognized by the conference for their academic achievement.
JAGUARS PLACE 133 ON HORIZON LEAGUE SPRING ACADEMIC HONOR ROLL
INDIANAPOLIS - The Horizon League announced its spring Academic Honor Roll on Friday (June 24) with 133 IUPUI student-athletes earning the award. IUPUI ranked fourth among the league's 12 members with 133 honorees, trailing only Milwaukee (174), Youngstown State (173) and Oakland (157).
Frederico, Hagerman Named 2021-22 GLVC Winter and Spring Scholar-Athletes of the Year
LEBANON, Ill. – McKendree University wrapped up Great Lakes Valley Conference (GLVC) Academic Awards Week on Friday as they earned two GLVC Winter and Spring Scholar-Athletes of the Year for the 2021-22 school year as junior Rebecca Hagerman (Loves Park, Ill./Harlem) and junior Leonardo Frederico (Tijucas-Santa Cantrina, Brazil/Unicesumar) were this year's recipients of the award from women's bowling and men's…
Seven Hounds named Winter/Spring GLVC Scholar-Athlete of the Year
Friday's announcement brings UIndy's 2021-22 total of GLVC Scholar-Athletes of the Year to nine, with the next closest conference school having just two.
DEPARTMENT-RECORD 17 STUDENT-ATHLETES NAMED TO NORTHEAST-10 CONFERENCE SPRING ALL-ACADEMIC TEAMS
Mansfield, Mass. – A department-record 17 Le Moyne College student-athletes have been named to the Northeast-10 Conference Spring 2022 Academic All-Conference teams for their respective sports, as announced by the conference office on Wednesday morning.
Jelena Ostapenko beats Camila Giorgi to reach Eastbourne final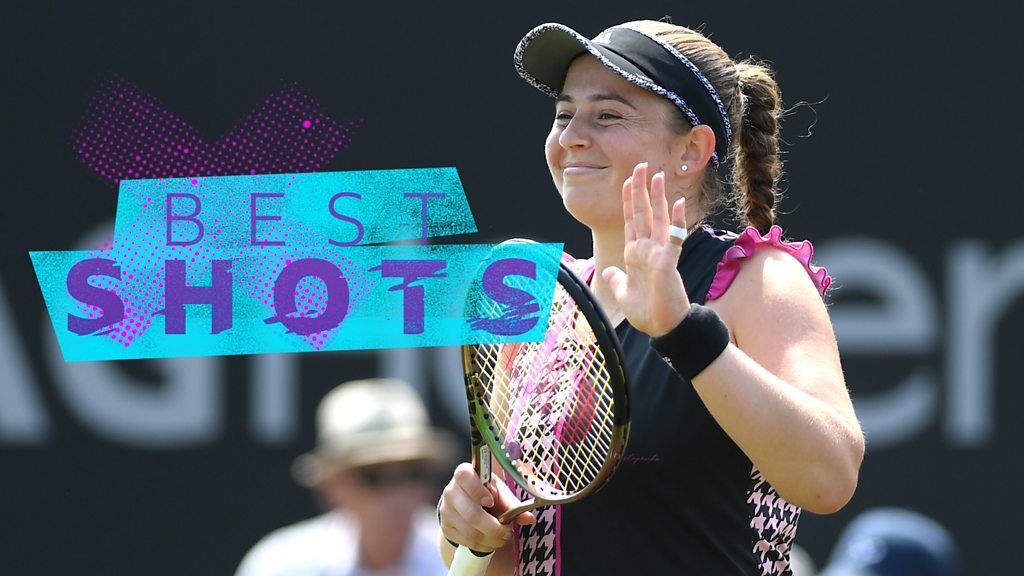 Watch the best shots from Jelena Ostapenko as the defending champion beats Camila Giorgi 6-2 6-2 to reach the Eastbourne final.
JHU Freshmen Class Ranked Third in the Nation
BALTIMORE, MD – The Johns Hopkins women's tennis incoming freshmen class has been ranked third in the nation by TennisRecruiting.net. The is the fifth time in the last 13 years that the Blue Jays' recruiting class has been ranked in the top-five. This is JHU's highest ranking since a program-best second in 2013.